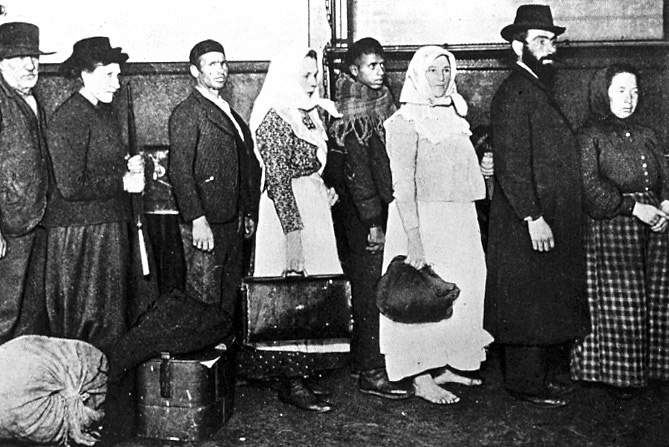 When I was 18 and stranded in JFK airport for 7 1/2 hours on a high school trip to Europe, my English teacher Mr. Parris Bushong pointed to a group of three people--a dark-bearded Hasidic Jew, a suit-wearing white woman, and a paraplegic black man--all in a circle talking and laughing quietly together. "That, right there, is America," he said.
When I think of America, I don't just think of waving corn fields and dusty roads with pickup trucks: I also picture immigrants getting off the boat in New York City under the shadow of skyscrapers and the Statue of Liberty, opening Italian delis and Irish churches and Jewish textile shops, grimy beret-wearing kids carousing in the city streets shouting "youze guys wanna play some stickball?" - all in search of opportunity and freedom in the bubbling cultural milieu that is America.
So when a group of Muslims wants to build a mosque near Ground Zero, I say let them! - not because I begrudgingly accept their freedom to do something I disagree with, but because
the right of Muslims to build a mosque near Ground Zero is the very essence of what America means and is.
My image of America, of people coming together from all parts of the world to live and prosper together, is undermined less by the terrorists who flew planes into that great melting pot of a city than by the crazed hoards who now descend upon it, demanding that the very freedoms they say the terrorists want to destroy be revoked.
How are we even having this debate? What is the argument against the mosque - that it would be "insensitive" of people who share the same religion as the terrorists to build a mosque close to the site of the tragedy? But wouldn't that sort of depend on most Muslims being terrorists? Let me put it a different way: if you do not believe that most Muslims are terrorists, is it still possible to make a logical case for being offended by a mosque? Timothy McVeigh grew up Catholic and was both a Republican and NRA member - must cathedrals, elephant statues, and NRA ranges keep their distance from Oklahoma City?
In any case, whether or not I'm offended is kindof a moot point, as the Bill of Rights doesn't contain a right to not be offended. The freedom of religion, on the other hand, is protected not just by the First Amendment, but by the
first words of the First Amendment
. If we think it's fine to throw that away just because a religious building hurts our feelings, how can we even call ourselves Americans?
True weakness isn't giving in to Muslims who want to build a mosque, but in giving into our basest tribal fears of outsiders - the very fears that give "terrorism" its name. After the two towers came down, I said, "Build them back!" Far from a memorial, I wanted to tell the terrorists, "we won't be defined by this tragedy - you knock these towers down, we build them right back up." Similarly, a mosque at Ground Zero of the terrorists' handiwork is not a sign that they've won, but a monument to how little their handiwork has changed us - proof that their best efforts to sow fear have not shaken our commitment to freedom... for ALL Americans.
Opponents of the mosque say they are protecting "our way of life," but in America, that very phrase is a contradiction - for the American way of life (such that it exists) is defined by there
not being
a singly-defined American way of life. Whether someone wants to burn a flag or pledge allegiance to it, to build a mosque or a church or an organic garden, our freedom to do those things--not our opinions on their appropriateness--is what defines us as Americans.
Which is why when Sarah Palin and
Newt Gingrich
and the swarming masses, pulsating and waving signs with grotesque energy like some stepped-on ant colony, say that Muslims don't have a right to build a mosque at Ground Zero, they aren't just
wrong
: they
stab at the heart of what it means to be an American
. Restricting the right of a group of citizens to build a mosque in the name of protecting freedom is literally bringing Orwell's cryptic words to fruition: that all animals are created equal, but some are more equal than others.
The freedom of religion has always been America's first freedom, and a few raggedy terrorists hiding in caves aren't going to change that - that can only be done by those whose
reptilian brains
the terrorists whip into a fight-or-flight hysteria against outsiders.